Known for its lush parks and bold heritage dating back almost 200 years, Old Ottawa East is one of the most vibrant neighbourhoods in Ottawa. Soon the Greystone Village community will call Old Ottawa East home, and with lots to see and do in the area, residents will be able to enjoy a lifestyle that perfectly blends green living with a lively urban culture.
In celebration of the growing and changing neighbourhood of Old Ottawa East, we're announcing the #HelloOldOttawaEast Photo Contest!
We're asking social media fans to show the best of the Old Ottawa East and the surrounding neighbourhoods in photos – whether it's your favourite place to shop or dine, time spent along the Rideau River, or just your favourite place to hang out. Up for grabs are two grand prizes, to help you to make the most of urban Ottawa living – a sit-in kayak valued up to $500 and professional urban bike valued at $700.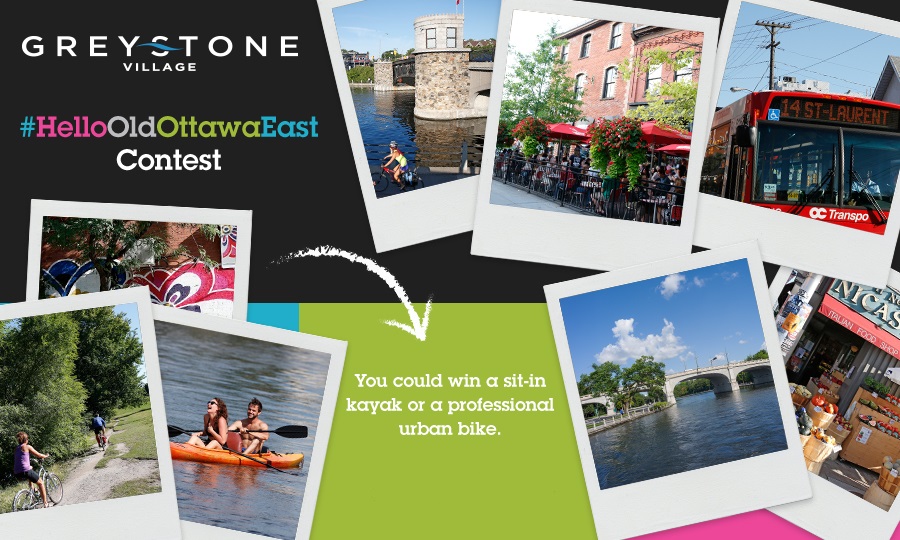 To enter on Facebook, comment with your photo on one of our #HelloOldOttawaEast promo photos.
To enter on Instagram, post your photo to your Instagram account with #HelloOldOttawaEast and tag @GreystoneVillage.
Only 1 entry will be accepted per person, however, entrants who post a photo from the Greystone Village Presentation Centre will receive 2 chances to win!
The #HelloOldOttawaEast contest is on now until June 10, 2016. Read the full rules and regulations here.
Enter now on Facebook and Instagram. We look forward to seeing you in the neighbourhood.